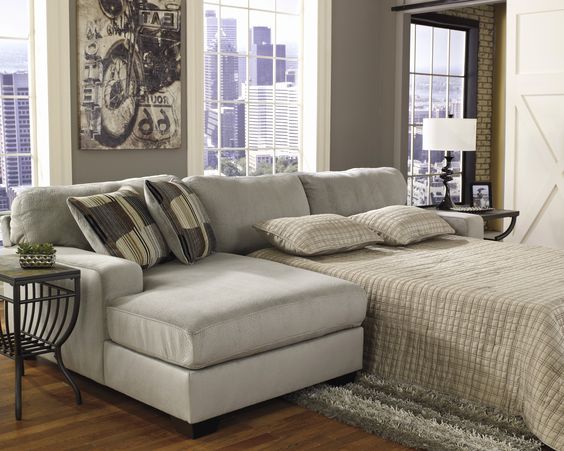 Sofa bed or some may call it sleeper sofa has been one of the amazing invention of 20s and it has gaining popularity with time. Sofa bed is versatile yet a great piece of furniture to have at home. There're many benefits of sofa bed, it not only offers, a bed with sofa but also unique looks. Just because it doesn't work for some people doesn't mean it's not a useful piece of furniture. Indeed it is one of the most beneficial piece of furniture ever made. Well, it will take us a lot of time when it comes to praise this sofa beds on the basis of their benefits. So, we have decided to list only top 5 benefits of sofa bed in this article.
Dual Functionality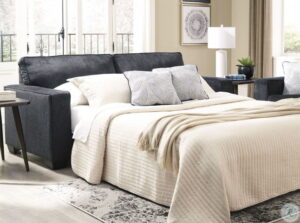 A Sleeper sofa or sofa bed performs dual functions, it can be used as couch during the day when you're watching your TV and a bed at night when you want to have comfortable sleep. If you're living in small apartment or house then sofa bed with dual functionality would be ideal option for you. Sometimes, our friends or family visits us and if they stay then this couch with the option of turning it into a bed will be very useful.
Space Savior
Sofa sleepers saves you a lot of space as it combines both bed and a couch, so you don't have to buy bed and furniture separately which will be taking a lot of space if you're living in a small studio or apartment. Having a sofa bed is nothing less than a blessing. It cuts the hassle of picking up your kids when they fell asleep and take them to their rooms. Just open it wide and they can sleep there on sleeper sofa. And when you want to have couch, just fold the springs back up and set the cushions in their place. Toss some throw pillows, now you have your couch.
Variations in Style
Sofa beds usually come in variety of design so you don't have to worry that you're only stuck with a plain designed couch. They come in sectionals and loveseats also. There are all kind of options available. A sectional sleeper couch provides plenty of seating as well as a queen-size bed for sleeping. Standard sofas usually contain full-size beds inside, whereas loveseat sleepers have twin-size beds.
Economical
Sofa beds saves one a lot of hard earned money, as you don't have to pay for multiple pieces of furniture. You're getting a bed and couch at same place with same amount. Although it may cost you a little more than a singular separate couch yet still it's economical as it won't cost you more than separate bed and couch. With a sofa bed, you can live in a one-bedroom apartment rather than a two-bedroom. Your living room is transformed into a guest room. Your rent/mortgage will be reduced as a result of your decision to purchase a sleeping sofa!
Easier to maintain and move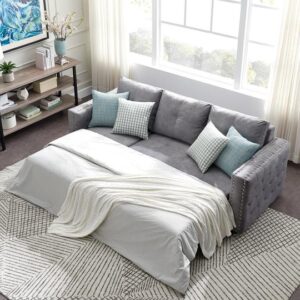 So what's the maintenance of sofa bed? To set it up simply remove the cushion and pull up on the spring mattress. You can place sheets and light blanket on mattress as per your interest. Moreover, Sofa beds are easier to move than a classic bed. It also save you a lot of time and efforts as you're moving one less piece of furniture. A queen sleeper couch will undoubtedly be easier to move around than a queen-sized bed, especially if it has sliders underneath. When it comes to rearranging your furniture, you'll never need to call in reinforcements.