Wood beds have always been in demand, but there is one metal product which has certain air of class and authority: metal bed frames. Despite of being tough and nice to look at in your bed room, they are also durable and long lasting. If your whole décor offer a nice and classic look and you want a bed which can easily blend with that, you can consider a metal bed.
Unlike wooden beds, metal beds are simple to put together and maintain. We have choices of metal bed frames for children and adults. It is a worthy deal that can benefit you for years to come.
Keswick Metal Bed
If you are looking for an affordable bed, Keswick metal beds are another option. Buy this bed and be care free for long time.
Colour
The bed is available in cream colour
Size
This bed has two size variants 3ft and 4ft6
Base
Weight
Its weight is around 12.5 Kg
Westbrook Metal Bed
If you need a reasonably priced yet classic metal bed, consider Westbrook as option. This bed has remained one of the bestselling products in the consumer market of the UK. Higher percentage of buyer would recommend this metal bed to their friends and family.
Colour
It has a deep black colour so it should blend seamlessly with any plans that you have for the room in terms of decoration.
Slats
It usually comes with solid slats; but you can upgrade these to sprung ones.
Frame
This frame also comes with a center support leg to help support the mattress and the weight of the sleeper.
Size
Buy this product in various sizes.
Guarantee
Company offers 1-year guarantee with free delivery and recycling, of course if you have an old bed, service.
The delivery service assembles your bed for you if you are willing to pay extra charges. Single bed and the double normally take 40-45 minutes.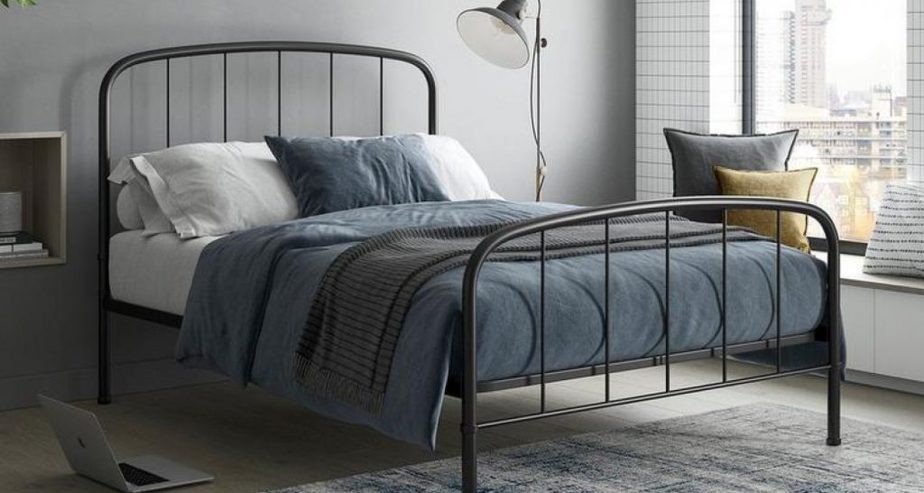 Annabel Metal Bed
If you need a reasonably priced yet classic metal bed, consider Annabel. This bed is a bestselling product of bedsland. Buyer would definitely recommend this metal bed to their friends and family.
Size
Bed is available in 3ft and 4ft6
Colour
Bed is available in sliver and white
Base
This beds offers laminated sprung slats
Height
The bed is 33 mm height which gives space to keep your belongings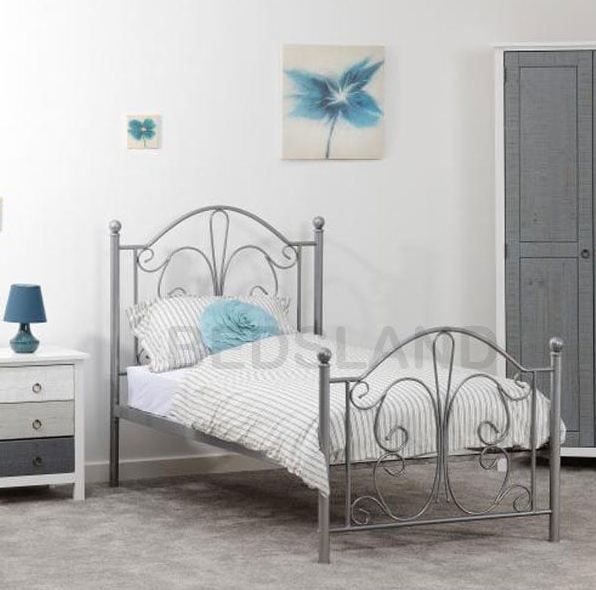 Hugo Nickel Bed Frame
If you are looking for an eye catching center piece bed, Hugo nickel bed frame is the best option. The magnificent bed frame gives as a bold statement. It offers matching heavy finials on all four bedposts. The bars of this bed are unique at the head and foot end of the bed. This bed has also received a reasonable amount of attention in the consumer market.
Size
It is compatible with most mattresses because it comes in standard sizes.
Base
The base standard base has solid slat which can be upgraded to sprung slat for better support.
Colour
Being a nickel frame, the metal appears different in colour than black.
Guarantee
This bed frame comes with a 1-year guarantee with free delivery.
It is up to you to either set it up yourself or pay £50 to get your bed assembled by professional. It will take only 30 minutes to assemble this bed.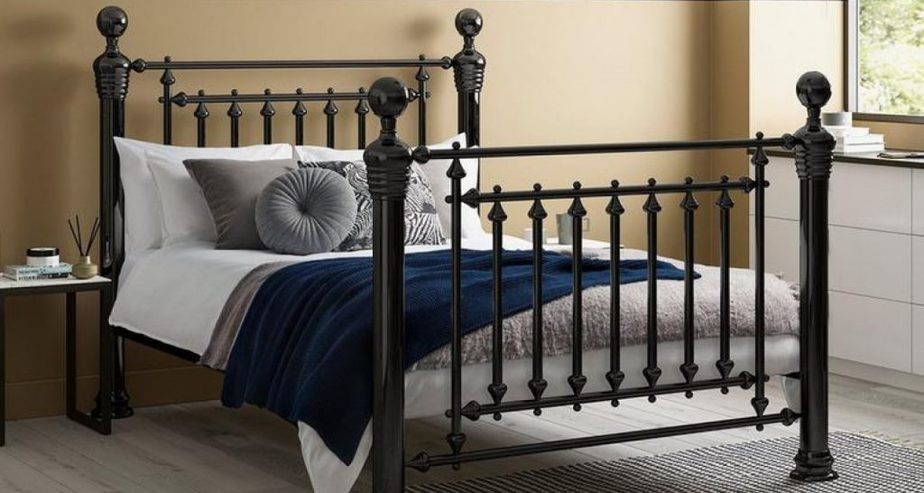 Aingoo Bed Frame
Aingoo metal bed frame is very affordable piece of furniture and looks amazing. This frame is available at several online platforms with good customer reviews.
Slats
This bed frame has U-shaped legs to support its slats. This design keeps mattress in one place firmly.
Space
It is a reasonably high bed which offers sufficient space underneath.
Height from ground
This bed is 28 centimetres high from floor which is enough space to keep your items.
Frame
This bed frame is made from 100% steel, including the slats.
Weight
This bed is very heavy and can bear weight of 330 lbs. It capacity to bear weight means more durability.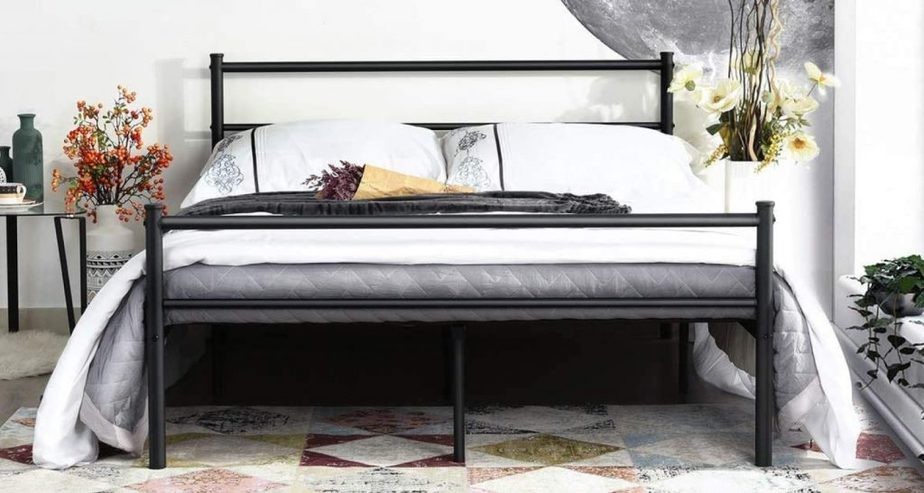 Rebecca Bed
If you are looking for an affordable bed, Rebecca metal bed is one affordable choice. Buying this bed means a 5-year care free guarantee to keep the bed in working order.
Colour
This bed comes with traditional gold highlights which are vintage style.
Parts
It offers a matching head and footboard which are sturdy and striking.
Base
This bed has sprung slats in the base for extra support and comfort.
Size
The Rebecca bed is purchasable in several standard sizes. This choice in sizes is strength of this bed which makes it worthwhile option.
The bed frame has been designed to be assembled easily, even if you have to do it on your own. It will be delivered to you flat. The bed will be packed with instructions which are simple to follow.
Conclusion
If you are in search of durable beds, metal bed frames are specifically made for this purpose. A choice in beds which will last longer than any other in the market is metal bed. On the one hand they are really heavy but on the other hand are incredibly sturdy.
A good metal bed frame is stylish in designs and affordable in price. Looking for something elaborate or classic, buy metal beds to get what you want. We offer metal beds at reasonable prices.