Plush Velvet Sofa Corner Set 3+2+1 SEATER
Get up to 10% discount on the full sofa set.
Plush Velvet Sofa Corner Set is produced by twisting the velvet whilst wet, which produces a sumptuous, shimmering, and soft-to-the-touch effect that makes an opulent impression in any room. Our range of luxury Plush Velvet Sofa UK includes 3-seater, 4-seater, and corner sofa options. With foam filled seat cushions that bounce back, you can spice up your room with complementary shades of teal, lavender silver, and truffle.
For all the Plush velvet lovers out there this is right up your alley. A beautifully designed and finished french velvet sofa suite will brighten up the character in any room living space.
All cushions in this scatter back design are included. When you touch, feel and see this sofa you can understand why it is now one of our best selling ranges. It comes as lush as they can possibly do so.
Now we have the stock for our online customers so get you now, click today and have it in your living room within days. 
Browse our range of Crushed Velvet Sofas, woodland sofa suite together with corner sofas, three seater sofas, 2 seater velvet sofa. We also a variety range of velvet sofa for sale discounted mixture deals on hand. All to be had with free delivery to the majority of the united kingdom. Our most popular grey crushed velvet corner sofa also is available purple, black, and grey to name a number of.
To praise our crushed velvet sofa covers now we have additionally offered company new velvet sofas. All our stages of sofas can mostly be delivered inside 7 to 9 working days to any location within the mainland UK. If you need to make an order external of the UK please contact us before doing so.
We can then give you a quote on the price of delivery. Please take a appear around our overwhelmed velvet stages and you probably have any questions believe free to email our group. That you could additionally follow us on Fb and Instagram to view our purchaser snapshots and comply with our today's arrivals.
Colour: Available in Grey Velvet
Condition: Brand New
Item Details: Dimensions for all sizes in this design (Approximates)
3 Seater:
Length – 205cm
Height –  95cm
Depth –   92cm
2 Seater:
Length – 181cm
Height –  95cm
Depth –   92cm
1 Seater:
Length – 120cm
Height –  95cm
Depth –   92cm
3+2+1 Sofa Suite in Luxury soft Velvet

Hugely stylish sofa (s) at an affordable price

As stylish as they come at a fraction of the RRP price 

Delivered for FREE within 7 days (Ground Floor ONLY) (Charges apply for upper floors)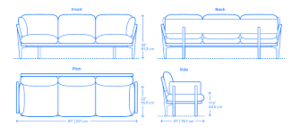 Warranty: 1 Year
For some reasons, if you are not happy with the product you receive or you see any issues with the product you can ask for replacement or return within 30 days.
Return / Refund Terms & Policy
Delivery Policy:
Free delivery within 5 to 7 working days to the main ground floor only. The courier will charge extra £30 to deliver on the 2nd floor.
---
Follow Us: