Why You Should Buy A Storage Bed
Introduction:
If you're looking for a nice bed, then you should consider buying a storage bed. It can be very useful in your home because it is not just good for storing things but also for sleeping on it as well. There are so many reasons why you should buy a storage bed and here are some of them:
A Storage Bed Is A Great Space Saver For Small Homes.
If you live in a small home, or even if you don't have much storage space at all, then a storage bed can be a great choice. Not only does it help free up floor space by storing items under the mattress (which is ideal for people who want to maximize their square footage), but it also gives you extra room to store any other furniture that might otherwise take up valuable real estate in your home.
A lot of people love having additional storage available for their clothes and blankets–especially if they live with family members who share bedrooms. It's nice being able to keep everything neat and tidy without worrying about things getting lost or forgotten!
You Can Adjust The Height Of Your Headboard.
Another important reason to buy a storage bed is that you can adjust the height of your headboard. This is great for those who are looking for ways to make their room feel more customized and personal. For example, if you have young kids who need extra sleeping space or want to create a loft bed, then this type of furniture will be perfect for them!
If there's one thing we know about kids' rooms, it's that they're always changing–and sometimes in big ways. If your child wants more room in their bedroom but doesn't want an entirely new layout (or if they're just too busy playing video games), adding some extra storage space under their mattress could be just what they need! The best part? It'll still look like any other bed when guests come over–just no one else will know how much stuff is hidden away underneath until later…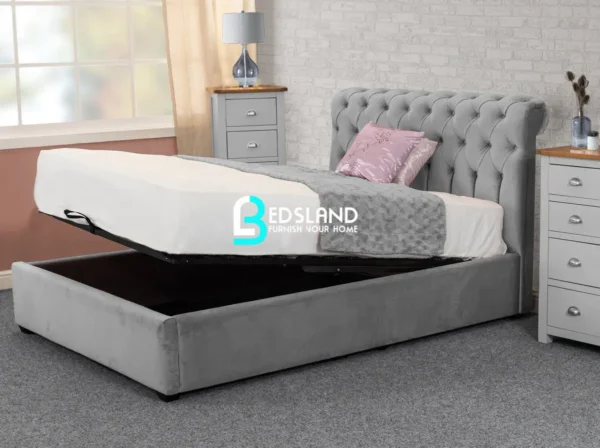 Checkout Bedsland  Chesterfield Sleigh Upholstered Ottoman Bed
It's Easy To Add Storage Space To Your Bedroom.
The best part about a storage bed is that you can easily add storage space to your bedroom. This makes it perfect for those who live in small homes or apartments as it provides extra space without taking up too much of the floor area. Storage beds are also easy to assemble, which means that even if you're not particularly handy with tools, you'll be able to put together your own storage bed without any issues at all.
Storage beds can come in many different materials including wood and metal so there are plenty of options available depending on what look you want for your room's decorating theme. Additionally, these pieces have customizable features such as drawers or shelves which allow users greater flexibility when choosing what kind of storage items they want included within their furniture piece
You Don't Have To Worry About Dust Bunnies Under Your Bed Anymore.
Storage beds are a great way to clear up the clutter in your room and add some extra storage space for items that you don't want cluttering up your living space. They can be used for anything from clothing to books or even shoes, so if you're tired of having stuff on the floor at all times then this is definitely something worth considering buying.
You'll Be Able To Hide Extra Clutter In The Bed's Drawers Or Storage Cubbies.
If you're tired of being surrounded by clutter, a storage bed is a great way to declutter your bedroom. With storage drawers or cubbies, you can hide extra clutter in the bed's base and keep it out of sight–but still have easy access if you need something later.
In addition, storage beds can be a great way to declutter your bedroom. With storage drawers or cubbies, you can hide extra clutter in the bed's base and keep it out of sight–but still have easy access if you need something later.
Make More Room Space In Your Bedroom And Declutter At The Same Time
A storage bed is a good idea if you want to make more room in your bedroom and declutter at the same time. If you're like me, most of your stuff is hidden away under the bed. But if I ever need it, it's not easy to find. This means that organizing my closet or dresser drawers can take days!
A storage bed allows me to store all those items that were previously cluttering up my bedroom floor so they are now out of sight and mind (and hopefully out of reach).
Conclusion
If you're looking for a way to declutter your bedroom and make more room, then a storage bed is an excellent choice. You can store things under the mattress that would normally be out in the open, like books or blankets. You can also add drawers or even cubby holes on top of the bedframe if needed! These items will help keep everything tidy while still being able to access them easily whenever needed
Readout More Blogs on Making Space in Your Room Decoration