In today's fast-paced world, urban living often means limited space. Finding the perfect bed that fits snugly into your compact living quarters while providing the comfort and style you deserve can be a daunting task. Fortunately, there are a plethora of innovative solutions available to help you make the most of your small space without sacrificing comfort. In this article, we will explore a variety of beds designed for small spaces, ensuring you get a good night's sleep without compromising on style and functionality.
The Murphy Bed
Have you ever wished your bed could simply disappear during the day to free up space? Look no further than the Murphy bed, a true space-saving marvel.
Murphy beds, also known as wall beds, are a popular choice for small apartments and studios. These beds can be folded up vertically against the wall when not in use, providing ample floor space during the day. They come in various sizes and styles, ensuring you find the perfect fit for your space and decor.
Loft Beds
Elevate your sleep experience, literally, with loft beds. These beds offer a cozy sleeping area while creating valuable space underneath.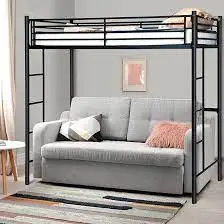 Loft beds are ideal for maximizing vertical space. They often come with built-in desks, shelves, or even seating areas beneath the bed, making them a versatile choice for small bedrooms or studios. They're perfect for students and professionals alike.
Daybeds
Looking for a Best beds that serves as a comfortable seating area during the day? Daybeds are the answer.
Daybeds are a fantastic option for small living rooms or home offices. These beds combine the comfort of a sofa with the functionality of a bed, making them perfect for lounging or hosting guests.
Sofa Beds
When elegance and functionality converge, you get sofa beds. These multi-purpose pieces of furniture offer both seating and sleeping solutions.
Sofa beds are an excellent choice for those who want to maintain a sleek and modern aesthetic in their living space. They seamlessly transition from a comfortable couch to a cozy bed, ensuring you have a spot for both relaxation and rest.
Trundle Beds
For those who need an extra bed but don't want it occupying valuable space all the time, trundle beds are a hidden gem.
Trundle beds come with a hidden mattress beneath the main bed, which can be pulled out when needed. This ingenious design is perfect for accommodating guests without taking up excess space.
Ottoman Beds
Ottoman beds offer a hidden sleep haven within a stylish and multifunctional piece of furniture.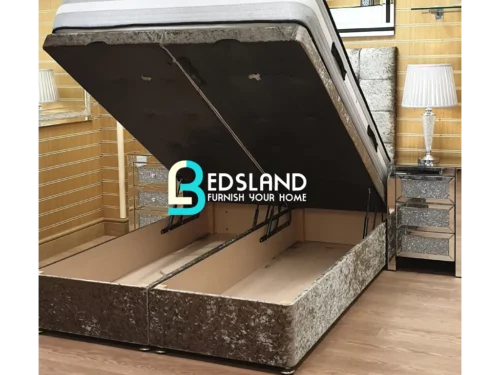 Ottoman beds are a clever choice for those who value both comfort and aesthetics. They provide concealed storage under a comfortable mattress, making them an ideal choice for small apartments.
Sleigh Beds
Sleigh beds add a touch of classic elegance to your small space while providing ample comfort.
Sleigh beds are known for their distinctive curved headboard and footboard, which mimic the shape of a sleigh. These beds come in various sizes and materials, allowing you to choose one that complements your space's style.
Which One Should You Choose 
When it comes to choosing the best beds for small spaces, two options stand out as exceptional choices: sleigh beds and ottoman beds. These beds offer a blend of style, functionality, and space-saving features that make them ideal for compact living quarters.
Sleigh Beds: Timeless Elegance and Comfort
Sleigh beds are renowned for their timeless elegance and comfort. They bring a touch of classic charm to any small space. The distinctive curved headboard and footboard, reminiscent of a sleigh, create a visually appealing focal point in your room.
But what truly sets sleigh beds apart is their comfort. The gently curved shape of the headboard provides excellent support for sitting up in bed, reading, or watching TV. This makes sleigh beds not only stylish but also functional, making the most of your limited space.
Ottoman beds, on the other hand, offer hidden comfort within a stylish and multifunctional piece of furniture. These beds are cleverly designed to maximize space efficiency.
The beauty of ottoman beds lies in their dual purpose. During the day, they function as a comfortable seating area, serving as a stylish ottoman or bench. At night, they effortlessly transform into a cozy sleeping haven. 
Conclusion
In the world of small-space living, choosing the right bed is essential for maximizing comfort and functionality. Whether you opt for a space-saving Murphy bed, a stylish ottoman bed, or a classic sleigh bed, there's a perfect solution for your needs. Invest in a bed that complements your style, provides extra storage, and ensures a restful night's sleep.
Readmore: Best Mattresses for Stomach Sleepers
FAQ's
Are these beds comfortable for everyday use?
Yes, many of these beds, such as sofa beds and daybeds, are designed for daily use and offer comfort and convenience.
Can I find these beds in different sizes?
Absolutely! Most of these beds come in various sizes to accommodate different room dimensions.
Do ottoman beds provide enough storage space?
Ottoman beds offer ample storage space underneath, making them an excellent choice for small spaces.
Are adjustable beds noisy when they move?
No, modern adjustable beds are designed to operate quietly, ensuring a peaceful night's sleep.