---
Divan Bed with Storage – Bed with Mattress
We have a huge collection of Divan Bed with Storage in our online shop. You will find divan and sleigh beds with drawers storage underneath bed base for extra room space.
Benefits of bed with storage
Dian bed with headboard are built with compartments for you to keep items within the bed. Having a divan bed with drawers gives you so much space your bedroom. Because storage space beds have easy‐to‐use systems in place for you to use the drawers storage option at the side, you can store absolutely anything you wish within them. Items like spare bedding, towels, shoes or seasonal clothing will sit comfortably under the bed base until you're ready to use them. This means your room can stay looking neat and free from excess items and can also make more space in your wardrobes or airing cupboard. Small bedrooms can benefit massively from having a bed with a drawer. When space is already at a premium, any extra room that can be utilized is vital. Storage beds use the space that would have otherwise gone neglected between your mattress and the floor.
Divan Bed with Storage:
We are the premium manufacturers of Divan bases, so you can wide range to get your custom bed base design with drawers as per your need. single divan bed with storage come up with only 2 drawers underneath the base, but other than that Small double, Double divan beds, King and Super King size divan bed have more drawers space under the base. You can choose the design of the drawers by the following directions are displayed in the image below: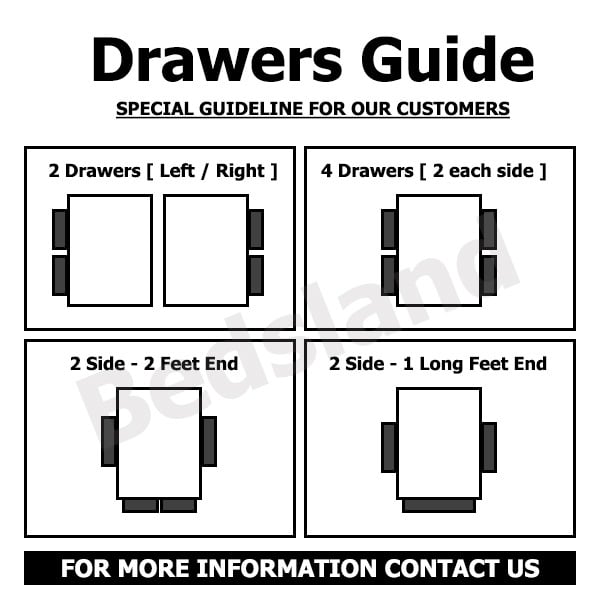 We are offering a free delivery service to mainland UK area buyers, also now you can pay on delivery day. If you have any questions, please contact us and our customer service team will guide you with your questions.