Designing and setting up a girls' room is a fun undertaking that enables you to make the space comfortable and fashionable according to their tastes. A chaotic area may be transformed into a haven of relaxation and creativity with the help of intelligent organisation and design, whether you're a parent or a kid trying to update your room. We will provide important advice and detailed instructions on How to arrange a girls room for maximum comfort and style in this blog.
Let's begin to know How to arrange a girls room!
Establish a theme and colour scheme
Choosing a theme and colour palette for the room should first represent the girl who will use it and her interests and personality. It might be anything, from a princess-themed room with delicate pastels to a space with earthy tones that is inspired by nature. Make sure that everything in the room—the walls, the furniture, the decor—reflects the theme and colours you've chosen.
Spend money on a comfy bed
The bed is the focal point of any bedroom, so it's essential to spend money on one that looks good and is comfortable. When selecting the ideal bed, take into account elements like size, style, and material. A twin or full-size bed is normally enough for a girl's room, but if you're short on space, you might also choose a daybed or a loft bed.
Boost Storage Options
Girls frequently own a wide variety of items, including clothes, toys, books, and other items. Add clever storage options to keep the space tidy and organised. To make the most of the available space, use shelves, bookshelves, dressers, and under-the-bed storage. In addition to adding some flair, decorative storage containers or baskets may keep little items organised.
Construct a Cosy Reading Corner
Any girl's room would benefit from a reading nook because it fosters a love of reading and offers a comfortable place to unwind. Put a cosy chair or bean bag in a bright corner, and place a bookshelf there so you can keep your favourite books close at hand. Add cosy shawls and pillows to the nook to make it your own.
Create a Study Space
A study space is necessary for older females or teenagers to finish their homework and engage in extracurricular activities. For comfort during extended study periods, choose a sturdy desk and couple it with an ergonomic chair. Make sure the desk has a beautiful desk lamp for illumination, and provide lots of space for storing school necessities.
Include artwork and wall decor
It might be drab and uninviting to have blank walls. Add wall art and other decorations that go with the chosen theme to liven up the space. Hang motivational sayings, framed pieces of art, or handcrafted items to give the room a personal touch. As they are simple to put and remove without harming the paint, wall decals are a fantastic alternative.
Make it special by adding photos and mementos
Putting up beloved pictures and keepsakes is a wonderful approach to give the space a special, individual vibe. One wall can be turned into a photo gallery, or memories, artwork, and notes can be pinned on a stylish corkboard.
Make it special by adding photos and mementos
To increase cosiness and comfort, add soft furniture like throw pillows, drapes, and plush rugs. Choose fabrics that go with the subject and colour palette, and don't be afraid to mix and match patterns for a lively appearance.
Include Efficacious Lighting
Any room needs the right kind of lighting. To meet different demands, blend ambient, task, and accent lighting. Think of a reading lamp beside your bedside, a ceiling light fixture with a dimmer control, and string lights to produce a mystical mood.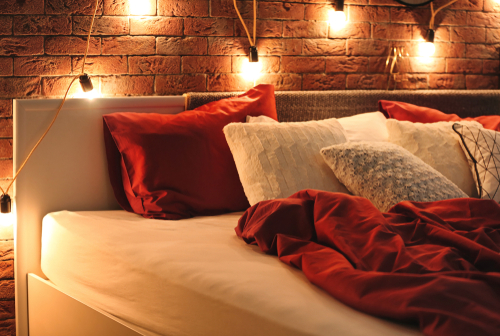 Schedule Repeated Decluttering Sessions
Finally, discuss the value of routine decluttering with the girl who is now occupying the space. Encourage her to organise her space and give or get rid of whatever she doesn't need. Keeping the space organised will aid in maintaining the welcoming and cosy ambiance you've established.
Schedule Repeated Decluttering Sessions
Use your imagination to include the girl in the design of the space by including enjoyable DIY projects. Think about using acrylic paint on canvases to make original artwork or painting an accent wall in a distinctive pattern. To give the space a personalised touch, you can also make ornamental things like dreamcatchers, wall hangings, or name signs.
Use the vertical space available
Making the most of the vertical space is essential in a compact bedroom. To save space and keep books, decorations, and trinkets off the floor, use floating shelves or wall-mounted organisers. In addition to aiding in organisation, vertical storage gives the space a unique visual component.
Conclusion
Putting together a girls' room is a fun project that lets you use your imagination to design a place that is both practical and beautiful. You may create a room that makes its occupant happy by choosing a theme, making the most of storage, adding cosier touches, and customising the space. The girl will be able to completely appreciate her room as a sanctuary for rest and self-expression if the space is well-organized and intelligently planned.
Read more How Can I Decorate Bedroom for kids?
FAQ'S:
Would artificial plants go well in a girl's room?
Faux plants might be a great alternative, especially if the girl has allergies or if the room is dark. The appearance of high-quality fake plants can be startlingly realistic and require little upkeep. Just be sure to dust them frequently to keep them looking nice.
How do I decide on the room's theme and colour scheme?
The girl's interests and preferences might be taken into consideration while picking a theme and colour palette. Think about her favourite hues, interests, or literary personalities. To guarantee that the girl's room truly represents her individuality, consult interior design magazines or online for inspiration and involve the girl in the decision-making process.
My daughter's room is modestly sized. How can I make the most of this area?
Vertical space becomes crucial in tiny spaces. To save floor space, use wall-mounted shelves and organisers. Choose furniture with many uses, including loft beds with study sections or daybeds with storage drawers. Maintain regular decluttering to maintain the space light and airy.

How to arrange a girls room for optimal organization and aesthetics?
To arrange a girls room, declutter first, use versatile storage options, incorporate her favorite colors and decorations, and create functional zones for study, play, and relaxation.