Grey 4 Seater Sofa
is a luxurious and comfortable addition to any living room. We designed this beautifully crafted piece of furniture with both style and comfort in mind, ensuring ample space for you and your loved ones to sit back and relax.
The sofa features a sleek and modern design, with clean lines and a contemporary feel. Its grey fabric upholstery adds a touch of sophistication to any living space, and the four-seater configuration ensures that there is plenty of room for everyone to sit comfortably. The sofa is perfect for families, couples, and those who love to entertain guests.
The Malmo Grey 4 Seater Sofa is built to last, using high-quality materials.. Its sturdy wooden frame provides excellent support and stability, while the foam-filled cushions ensure that you are comfortable and well-supported while sitting. A soft and durable grey fabric upholsters the cushions, offering both style and easy cleaning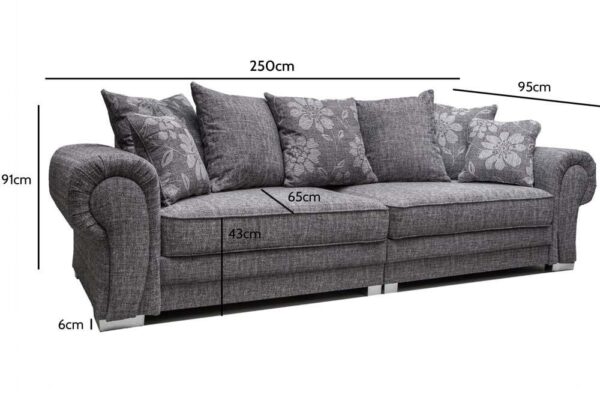 The sofa is also easy to assemble, with clear and concise instructions provided. The modular design of the sofa allows you to easily separate the different sections, making it easy to move and transport as needed .The 12-month warranty covers the Malmo Grey 4 Seater Sofa, giving you peace of mind and ensuring that you get the most out of your investment
Overall, the Malmo Grey 4 Seater Sofa is a stylish and comfortable seating option that is perfect for any modern living room. Its grey fabric upholstery and four-seater configuration make it a great choice for those looking for a "grey four seater sofa" that is both stylish and practical. With its high-quality materials and sturdy construction, the is sure to provide you with years of comfort and relaxation.
Checkout Bedsland Sofa Sale Uk 
For Delivery Terms & Policies Please READ HERE
Follow Us: