What are Divan Beds?
Divan Beds & Mattresses Information:
Are you wondering what are Divan Beds ? Divans are not to everyone's taste, you either love them or you hate them but they do have enduring popularity. So what has sustained demand over the years and why should you invest in one? Here you can read the complete divan bed information
Extra Drawers Storage Space Solution Underneath Divan Base
One of the big attractions of divan beds has always been the extra storage space underneath the divan base provides in the bedroom. If your room is cramped, then you can add a lot of extra capacity with a Divan bed. Divans are also designed to fit the measurements of the mattress without adding anything extra to the length and width.
You can personalize them
It is a common misconception that Divan beds all look the same. This isn't true when you consider that they usually don't come with a headboard so you are free to choose your own to match your bedroom style. We have a big range of options for Crushed Velvet Beds, Colour, Headboard & Mattress choice.
They tend to be firmer than other bed types
A divan will come with a platform top which means you get some extra padding underneath. So if you prefer a firm mattress under you, then a divan could be the ideal choice. Whether or not you opt for a divan is of course down to personal taste. If you want to check out our range of Divan bed for yourself browse through the examples in our store.
Read more about the frequently asked questions:
Are our divan beds easy to assemble?
Does my divan bed come with a mattress?
Are our divan beds expensive?
Do divan beds take up a lot of space?
Does my divan bed come with storage?
Does my divan come with a headboard?
Are there different divan base options?
1. Are divans easy to assemble?
Yes, they are the easiest type of beds to assemble. Your divan will arrive in two base halves (one whole piece if you buy a single-sized divan bed), complete with divan legs and a headboard if you've chosen one. Follow these step-by-step divan bed assembly instructions:
Turn the two base halves upside-down and attach the divan legs
Turn the bases over and push together, securing them with the locking clips on either side
Add the headboard (if you've chosen one) using the pre-drilled headboard sockets. The sockets are found at both ends of the bed, for convenience.
2. Does my divan bed come with a mattress?
It's up to you! Divan sets come complete with a matching mattress as standard. However, if you already have a mattress and simply want a new bed, you can choose a base only divan.
Generally speaking, most customers choose to purchase a full divan set. Read on to discover the different mattress and divan bed sets you can choose from.
3. Are divan beds expensive?
Divan bed and mattress sets are usually much cheaper than purchasing a bed frame and mattress separately! We offer a wide range of divan bed and mattress sets to suit your budget – starting from as little as £99.00 for Divan Base only.
4. Do divan beds take up a lot of space?
Divan beds take up less space than a standard bed frame of the same size. This is because the width and length of a divan bed are the same as the mattress. The mattress sits on top of the divan base, rather than insider a frame. For this reason, divan beds are a particularly good option for small rooms, such as box rooms, guest bedrooms and loft rooms.
5. Does my divan bed come with storage?
You can choose to add drawers storage to your divan bed to help clear up the bedroom clutter and store away extra items. The ultimate space-saving solution, we offer a range of storage options for your divan bed that can be customized to meet your needs.
The storage options available in our Storage beds are:
2 Drawers Same Side (Left/Right) [ 3ft base have only 2 Drawers ]
4 Drawers – 2 Drawers Each Side (Left/Right)
2 Small Drawers Foot-end
1 Long Drawer Foot-end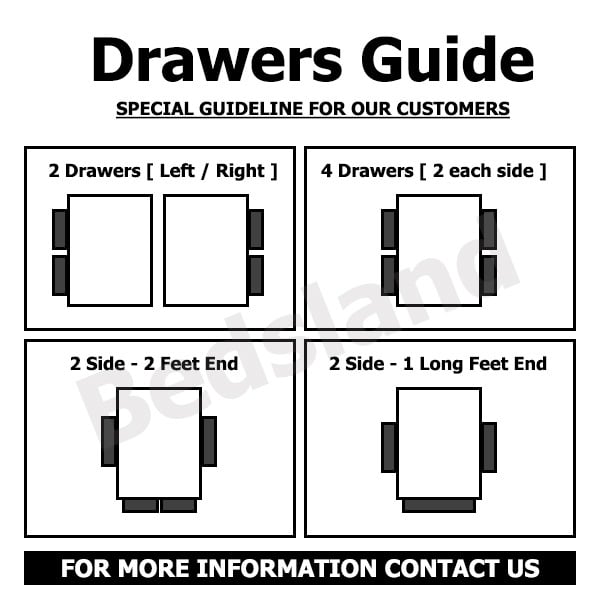 Divans Available in:
Bed Size:
3FT Single
4FT Small Double
4FT6" Double (Standard)
5FT King
6FT Super King
Read Divan Bed and Mattress Dimensions Guide Here.
Divan Beds Discount Sale Offer:
at Bedsland we are offering huge up to 70% off at the purchase of divan bed. And if you spend over than £500 you will get extra 15% discount!
So Hurry Up. Don't miss the Sale……..
You may follow us on Social Media for More Sales & Discount Updates:
Facebook – Twitter – Pinterest