Style, material, and size considerations are all important when selecting the ideal bed frame. The sleigh bed frame, with its recognisable curving headboard and footboard, is one well-liked and attractive option. How long is a sleigh bed frame? is a crucial query you might have if you're thinking about putting one in your bedroom. We'll examine sleigh bed frame dimensions in this in-depth article to assist you in selecting the right bed for your haven of rest. To help you choose the best sleigh bed frame size, BedsLand UK is here to give you all the information you require.
Sizes of Sleigh Bed Frames
Sleigh bed frames are a popular choice for people looking to add a touch of luxury to their bedrooms because of their reputation for being beautiful and traditional in form. However, depending on the model and maker, their size may change. Sleigh bed frames typically come in twin, full, queen, king, and California king mattress sizes. This guarantees that you may discover the ideal fit for your preferences and space.
Sizes of a Standard Sleigh Bed
Twin Sleigh Bed Frame, 79 inches long by 42 inches wide.
Length of full sleigh bed frame: 79 inches
About 57 inches wide
Length of the queen sleigh bed frame: 88 inches
About 63 inches wide
King Sleigh Bed Frame, 88 inches long by 79 inches wide.
California King Sleigh Bed Frame, 92 inches long.
75 inches wide
It's crucial to keep in mind that these measurements are approximate and may change somewhat depending on how the sleigh bed frame is made. Before making a purchase, always review the product specs.
Selecting the Correct Size
To ensure comfort and proportion in your bedroom, it is crucial to choose the proper size for your sleigh bed frame.
· Measure the Area: Measure the size of your bedroom before making a sleigh bed frame purchase to make sure the size will fit nicely. Allow ample space around the bed for moving.
· Think About Your Needs Do you have a housemate or pet with you when you sleep? Do you favour a larger sleeping area? When choosing the size of your sleigh bed frame, take into account your sleeping patterns and preferences.
·         Decor in the room: Your bed's size should blend in with the room's general design. Maybe I need a bigger bed.
Materials and Customization
Sleigh bed frames come in a wide range of customising possibilities in addition to size considerations. They can be made from a variety of materials, such as wood, metal, and upholstery fabrics, each of which adds a special character to the final product. The bed frame's weight, durability, and aesthetics can all be affected by the material choice.
For instance, wooden sleigh bed frames frequently emanate a sense of cosiness and tradition, making them the ideal match for traditional or rustic home designs. Metal sleigh bed frames, on the other hand, can add a touch of modernity and adaptability to your room. An upholstered sleigh bed frame, which has a luxurious and welcoming appearance, is a good option if you want to add a hint of richness.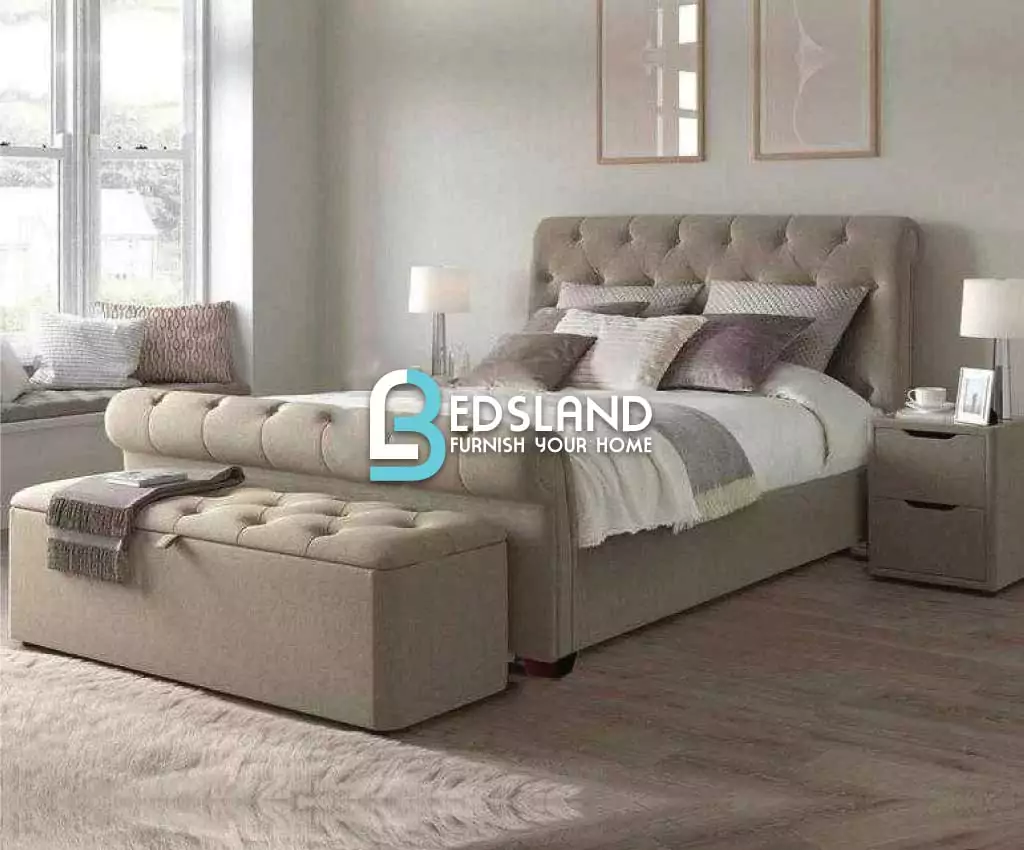 Accessories for a sleigh bed frame
Your sleigh bed frame's charm can be increased by adding the appropriate accessories. For an additional level of drama and intimacy in your bedroom, think about adding a canopy. Canopies come in a variety of designs, from simple sheers to ornate drapes, letting you create the atmosphere you choose.
The correct bedding and pillows should be chosen as well. The curves of the sleigh bed frame can be complemented by crisp, opulent linens and a selection of ornamental cushions, resulting in a unified and warm sleeping area.
Care and Maintenance
· Maintaining your sleigh bed frame will preserve its durability and aesthetic appeal. Here are some upkeep suggestions:
· Cleaning: To avoid dust and debris accumulation in the crevices, regularly dust and clean the frame with a soft cloth or a delicate hoover attachment.
· Polishing: To keep your wooden sleigh bed frame's lustre and shield it from scratches, think about using furniture polish or wax.
· Follow the manufacturer's cleaning recommendations for upholstered sleigh bed frames. To avoid stains, hoover the upholstery and deal with spills right away.
· Hardware inspection: Ensure that the joints and hardware are secure and stable on a regular basis.
Conclusion
In conclusion, the size and style of the sleigh bed frame you select will determine its exact proportions. Whether you're considering a twin, full, queen, king, or California king sleigh bed frame, being aware of the proportions is crucial for setting up a harmonious and cosy bedroom. To make a wise choice, don't forget to measure your available space, think about your requirements, and take the room's aesthetics into account. Discover your dream sleigh bed frame size with BedsLand UK. Achieve style and comfort for restful nights. Your sleep oasis awaits!"Now is the time to peruse our wonderful selection and make your bedroom a sanctuary of beauty and comfort.
readmore :why-buy-a-sleigh-bed
FAQ's
Do sleigh bed frames only come in predetermined sizes?
Sleigh bed frames typically come in twin, full, queen, king, and California king sizes, although some manufacturers also provide bespoke sizing alternatives to suit particular tastes or space constraints.
I have an existing mattress; can I use it with a sleigh bed frame?
As long as the mattress size corresponds to the frame's measurements, you can use your current mattress with a sleigh bed frame. Always confirm that your mattress is compatible with the sleigh bed size you have selected.
Do curved designs necessitate special assembly for sleigh bed frames?
Just like other bed frame designs, sleigh beds normally require standard assembly techniques. To make the process simpler, manufacturers include hardware and assembly instructions.
Do sleigh bed frames come with storage compartments?
Many sleigh bed frames do include built-in storage, such as base drawers. This can be especially helpful for making the most of limited space in bedrooms.