There are numerous options available when it comes to selecting the ideal bed for your bedroom, each of which caters to distinct likes and interests. The classic sleigh bed stands out as a symbol of elegance and relaxation among various options. A sleigh bed offers much more than simply a place to sleep thanks to its distinctively curved headboard and footboard; it can turn your bedroom into a sumptuous hideaway. In this post, we'll explore the benefits of purchasing a sleigh bed from Bedsland UK for both comfort and beauty.
1. Exceptional Aesthetics
The headboard and footboard of a sleigh bed are beautifully curved and resemble the traditional shape of a sleigh, therefore the name. Any bedroom benefits from this design element's impression of sophistication and elegance. Sleigh beds stand out thanks to their beautiful woodwork, which features delicately detailed carvings and gently curved lines. A sleigh bed is a versatile option that goes well with a variety of design types, regardless of whether your bedroom aesthetic tends towards traditional or contemporary.
2. Robustness and workmanship
Your comfort and wellbeing are investments, and a sleigh bed offers outstanding durability. The materials used by Bedsland UK are sourced from reputable vendors, guaranteeing that your sleigh bed will last for many years in addition to being gorgeous. You will benefit from the aesthetics and comfort of these beds for many years to come thanks to their sturdy design and careful manufacturing.
3. Different Sizes
When it comes to beds, one size does not fit all, and Bedsland UK is aware of this. Sleigh beds come in many different sizes, such as single, double, queen, and king. As a result, you may discover the ideal bedroom furniture without sacrificing comfort or beauty.
4. Redefining Comfort
It is essential to get a good night's sleep, and sleigh beds satisfy this need as well. You may easily sit up and read or watch TV while supporting your upper body well because to the headboard's curved shape. The curved footboard also gives a sense of comfort, making you feel safe as you nod off to sleep. Your sleigh bed transforms into a haven of comfort that promotes greater sleep and general wellbeing when paired with a premium mattress from Bedsland UK.
5. Timeless Purchase
The elegance of a sleigh bed endures despite trends coming and going. Purchasing a sleigh bed from Bedsland UK is an investment in traditional style rather than just a simple purchase. The traditional style guarantees
6. Storage Alternatives
In addition to its aesthetic appeal and comfort, many sleigh beds feature built-in storage. This can completely alter the situation, especially if your bedroom is small. Sleigh beds are available from Bedsland UK with under-bed drawers or storage spaces that are skillfully incorporated into the design. To keep your bedroom tidy and uncluttered, use these extra areas to store extra blankets, pillows, linens, and apparel that is out of season.
7. Flexible Design Alternatives
Sleigh beds can come in a variety of styles. beds have been updated to include sleek lines, simple curves, and even upholstered headboards while being frequently linked with conventional or classic aesthetics. Sleigh beds are excellent for a variety of interior design choices because of their versatility.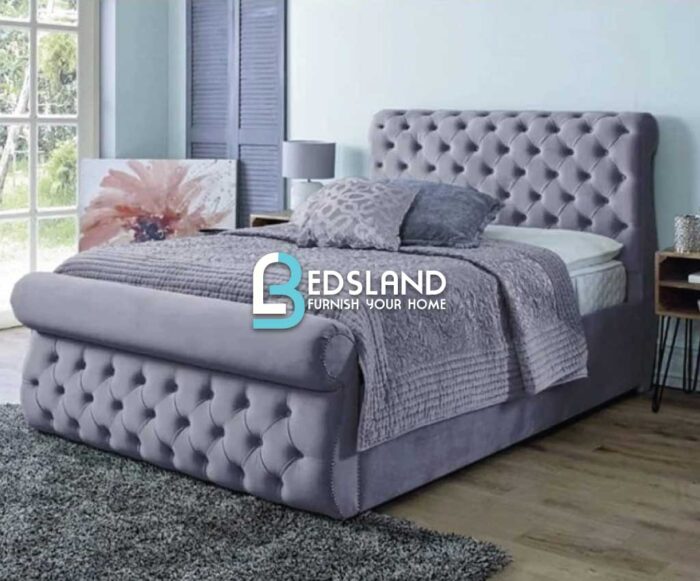 8. Simple Styling
Surprisingly easily, a sleigh bed can be styled to fit any bedroom. Since the bed itself creates a striking focal point, you can keep the rest of the design quite straightforward. A few carefully chosen items, such throw pillows, wall art, and ornamental cushions, can improve the atmosphere without taking over the room. Sleigh beds are the perfect option for individuals who desire a refined appearance without expending too much time or effort on décor because of how simple they are to style.
9. Improved Sleep Quality
Your sleeping environment has a big impact on how well you sleep. A well-designed bed, such as a sleigh bed, can help you sleep more soundly. A sleigh bed's robust structure and supporting design.
10. Coherent aesthetics
A haven where you start and end each day is your bedroom. In order to achieve harmony and cohesion in this area, a soothing ambiance must be achieved. The exquisite style of a sleigh bed can serve as the focal point of your bedroom, making it simpler to choose coordinating pieces of furniture and decor. A sleigh bed can easily mesh with numerous design aspects, ensuring your bedroom is a unified retreat regardless of whether you choose a rustic, transitional, or contemporary appearance.
Conclusion
A sleigh bed is a prime example of how style and comfort can coexist in the world of bedroom furniture. It is an excellent choice for people looking for a balance of classic elegance and a restful night's sleep because of its beautiful contours, precise craftsmanship, and timeless appeal. Sleigh beds come in a wide variety at Bedsland UK, so you can be sure to find one that matches the design and proportions of your bedroom. So why get a sleigh bed? The answer is straightforward: to add a gorgeous focal point that enhances your personal space and provides comfort, durability, and a hint of elegance.
Readmore : What is the role of bed in room decoration?
FAQ's
Why buy a sleigh bed?
A sleigh bed is a particular kind of bed that has a pronounced curving headboard and footboard that resemble the shape of a sleigh or sledge. The bed has a timeless and sophisticated look thanks to this design detail.
What sleigh bed sizes are available?
Single, double, queen, and king-sized sleigh beds are available in a range of sizes. With this selection, you can pick a size that complements your bedroom's layout and suits your preferences for sleeping.
How cosy are sleigh beds?
Yes, sleigh beds are made with both comfort and elegance in mind. The entire design helps to provide a comfortable and safe sleeping environment while the curved headboard offers support for sitting up straight comfortably. A nice and restful night's sleep may be had on a sleigh bed when it is matched with a top-notch mattress.
Are there storage alternatives for sleigh beds?
Many sleigh beds have built-in storage features, including drawers or spaces under the platform for the mattress. Extra clothing, bedding, or other goods can be kept organised and conveniently accessible using these storage options.