As a glorious centerpiece, sleigh beds are the best. It is known by its curved headboard and foot-board. Sleighs come into contemporary as well classic styles along with variety of built materials and colors. We have made a list of several sleigh bed styles to help you select the right one.
There are six basic sleigh styles
Wrought iron sleigh
Storage sleighs
British colonial sleigh
Upholstered sleigh
Traditional wood sleigh
Contemporary sleigh
Sleigh beds provide classic appeal but can easily adapt to any modern décor. There are some sleighs which have leather headboards to meet requirement of contemporary bedroom.
What is A Sleigh Bed?
Sleigh bed is a19th century design which is manufactured using heavy wood in a rustic-style. A sleigh bed has a curved head and footboard, fashioned after a sledge. Classic sleigh beds had ornamental appeal but modern are practical and covered in upholstery fabric.
The sleigh with outward curve is preferred which could be found in iron, steel, leather, aluminum, and upholstery. Sleigh beds go along with any kind of furniture.
Wrought Iron Sleigh
Iron sleigh beds manage iron to extended outward curves. They are attractive and elegant. Models have complicated cast iron along the head side and foot side of the bed. The moldings offer a dramatic and romantic effect. This sleigh bed features traditional brass accents embellishments.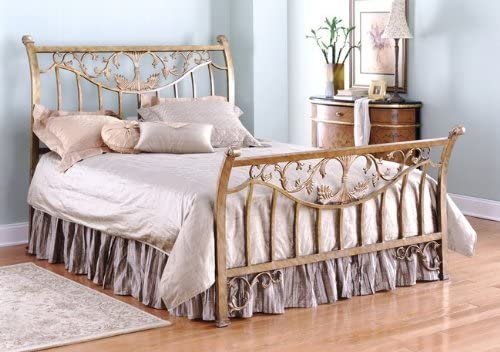 Upholstered Sleigh bed
Upholstered sleigh bed have fabric covering over their build material. It usually is made up of wood or metal. Cushion and fabric wrapped bed is really coziness and softness to touch. Azure sleigh bed comes from Amazon. It is a piece which makes statement about your choice and personality.
Upholstery fabric come in variety of fabric as well colors, so that you can match the style and decor of your bedroom.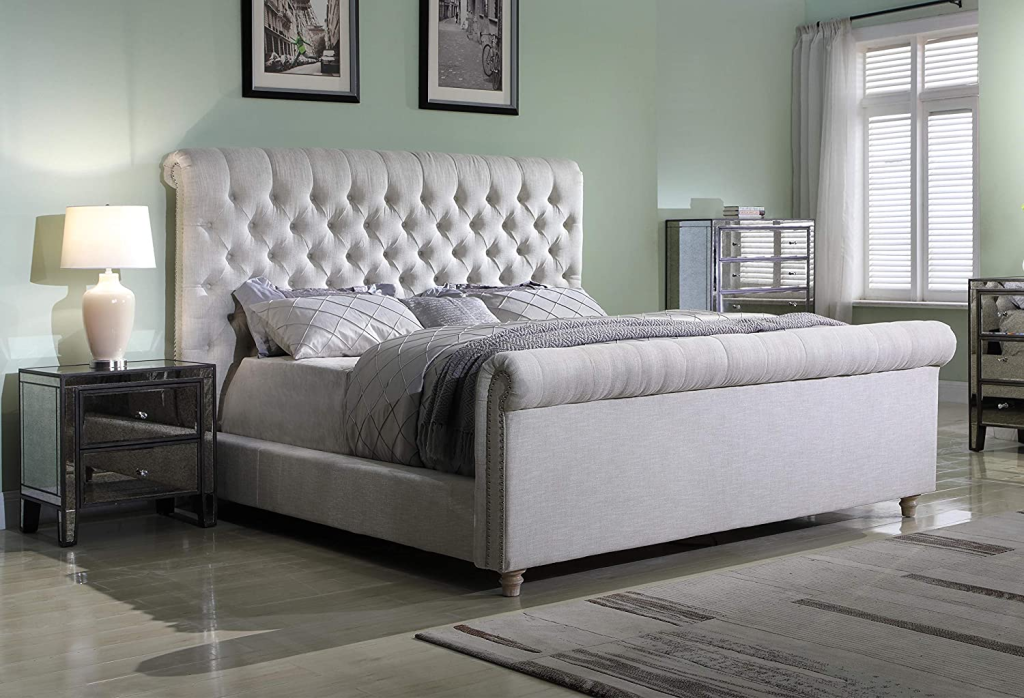 Traditional Wood Sleigh
Tradition has always been gorgeous and timeless. Traditional sleighs offer a blend of French design that fits into any style of bedroom. This wood bed frame has classic lines. Traditional sleigh made of cherry wood contains leather sections to display ornamental charm.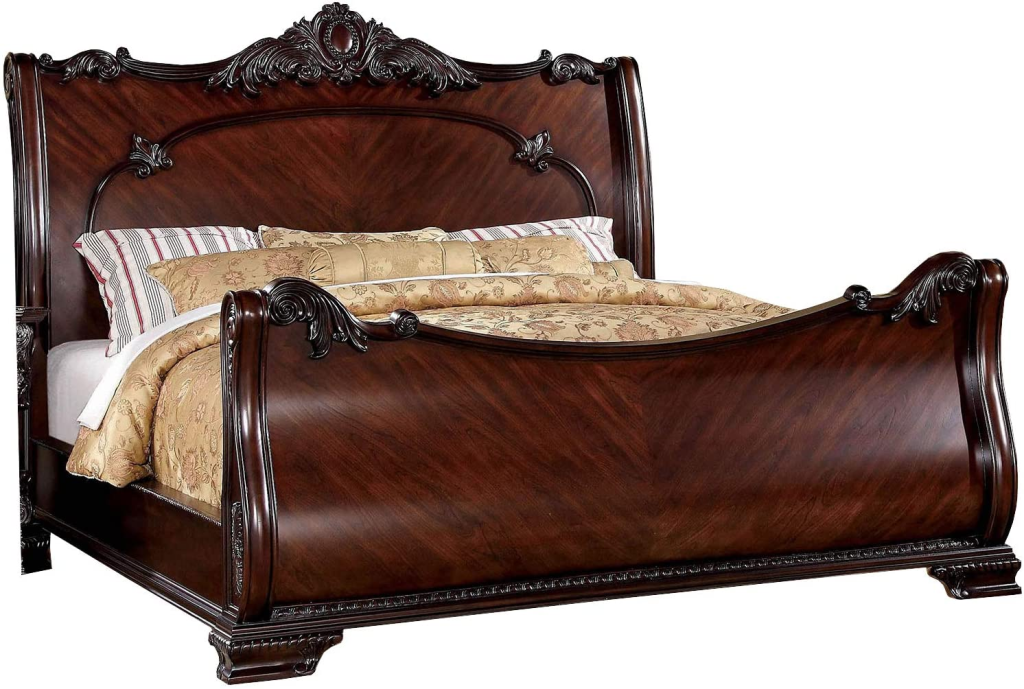 Contemporary Sleigh bed
This contemporary sleigh is a beauty to look at. It effortlessly fits in any rustic or contemporary bedrooms. Designers have redesigned the look of this sleigh to offer minimalist bed. In modern sleigh beds wood types are blended. Sleighs footboards and headboards come cushioned and padded with a particular fabric for extravagant feel. The smooth design and dark wood of this sleigh bed promotes the look of any bedroom.
British Colonial Sleigh
Dark wood, ebony or mahogany, is used to make a British colonial sleigh. There are several models that have beautiful carvings adding to classic antique look. Some models offer head and foot-boards made of cane to allow better air flow. To make it useful and practical for small rooms, its foot-board is not made in a curve.
Storage Sleigh bed
Storage sleigh beds are more ornamental and practical as well. Along with making a statement, they also provide storage under the mattress. The floor space is better under the sleigh and is perfect for small bedrooms.
Trundle bed is another considerable option for storage space. This bed includes a storage drawer underneath bed to fleece anything that fits.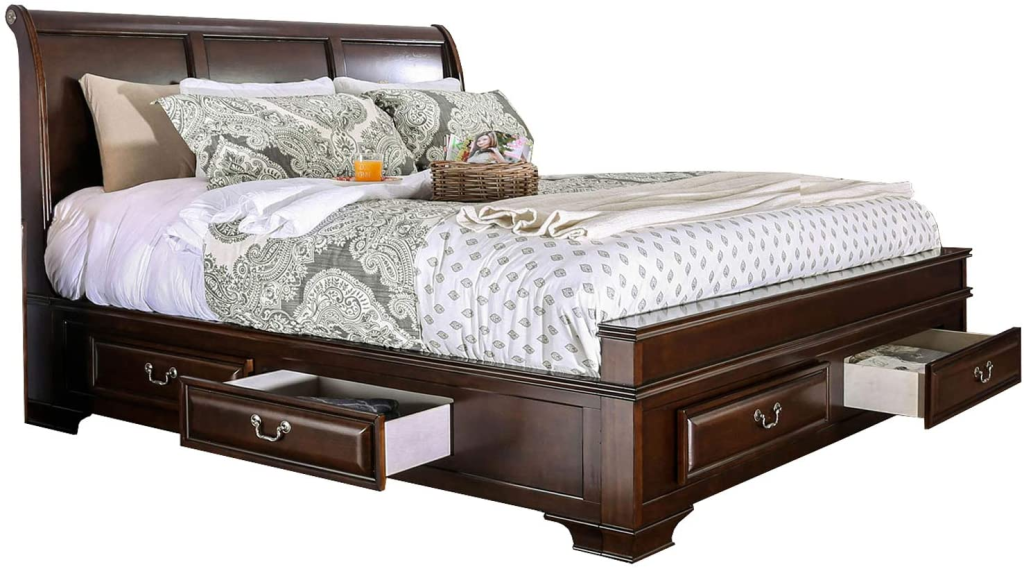 Conclusion
Have you ever noticed the dimensions of sleigh bed? Sleigh bed styles are shrinking in their sizes to accommodate modern citizen in their close rooms. To counter that issue of small spaces, sleighs offer a storage box to keep you belonging.
Here are six stylish and classic sleigh issues you might buy. These beds provide best sturdy as well comfortable platform. Choose one which suits your preferences.